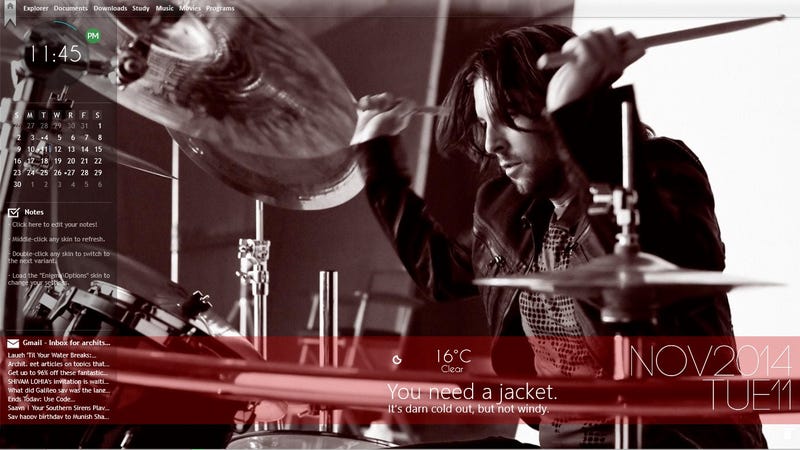 I am a die-hard fan of Linkin Park and my fondness of their lead drummer, Rob Bourdon has ever so increased after the release of their new album, "The Hunting Party". So I just decide to play with this image of his and set-up my desktop around it.
Here are all the tools you would need-
Rainmeter customization software
Wallpaper- http://tinyurl.com/lwncmtf
MacBar 3.0 skin(for the topbar)-
http://vit-ok.deviantart.com/art/MacBar-3-0…
Enigma skin(for the sidebars)-
http://kaelri.deviantart.com/art/Enigma-103…
Dark Glass V2.0 (for the clock & the weather)-
http://satyajit00.deviantart.com/art/Dark-Glass…
Encoded (for the red bar and the date)-
http://lilshizzy.deviantart.com/art/Rainmeter-…
Do I need a jacket widget-
http://flyinghyrax.deviantart.com/art/Do-I-Need-…
Apart from these, I have set the Windows taskbar to Auto-hide mode to bring it up only when I hover on it. Hoping these things do the trick for you.